This year I have no idea what I wear with old and new!
Tomorrow I am going shopping and so know not which I am looking for.
I had a sequins dress aka French Connection in my mind. Last year was the dress already on my list but the price, Poehh, …. But after many dresses (The Sting) who seems to have had, the zipper was skewed put in there, I got a huge dip and crisis, what DO I NEED to wear.
I am still on time his dress or word something else ..? I'm going to search the internet looking for ideas
Looking for something that will shine….
The fashion trends for the holidays Gold and silver (not combine with each other,
The combination Of Black and white top to toe in the (woolly) winterwit Sequins: preferably as large as possible! (What you thought of a sequins-legging with a nice black blazer and a tip?)
Tops and dresses that are decorated with pearls or colored stones (and then as much as possible) Boucle jackets and bouclé tailleurs in Chanel style (very nicely in the winterwit or with a silver or gold thread through) Coarse side without lining (black or creamy in colour). Transparent is a must! You wear a Culottes and non-transparent bra underneath. Also Hollywood stars like Lady Gaga and Scarlett Johansson are often spotted in transparent side this
60s dresses (à la Audrey Hepburn,)
Plateau Peeptoe pumps (in other words: super high pumps with a small cutting thing making a piece of your toes to see is) sweaters and jackets in long-haired wool you with silk or satin combines Dark blazers or Tuxedo jackets black leather for the evening (for example, a long black leather skirt with a sleeveless top, see Dean and Dan Caten) Plateau boots with laces bare legs (Yes, cold!)
Long dresses in feather-light materials with lies high slits (very suitable for a gala) Imitation fur for waistcoasts but also for jackets, bags and other accessories Knitwear with a silver or gold thread through Short straight dresses or long dresses Color mag: red, but also green, blue, Orange, yellow (see Gucci)
( sorry my english is not so good)
Inspiration for a party look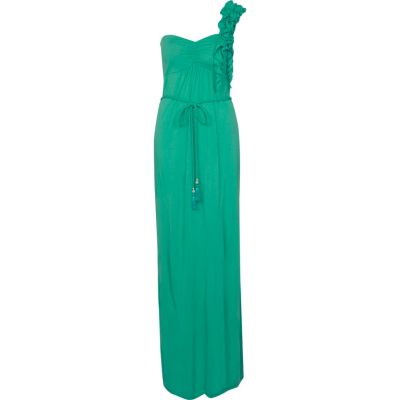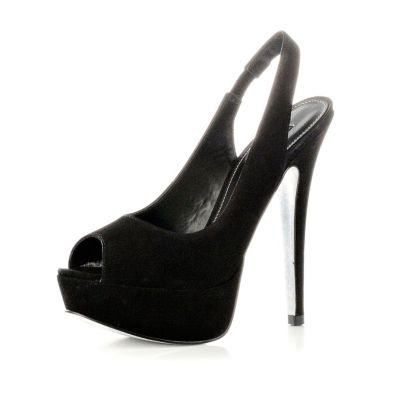 Green ruffle one shoulder waisted maxi dress 26,00 pond and black/silver peep toe 60,00 pond ( River Island)
Vero Moda Blouse € 73,98 (asos.com) Black Jersey belted maxi skirt 25,00 pond ( River Island)
Peep Toe € 127,78 ( asos.com)

(asos. com) partydress € 73,98 This look Asos.com
Dit jaar heb ik totaal geen idee wat ik aan moet trekken met oud en nieuw!
Morgen ga ik shoppen en weet dus niet waarnaar ik op zoek ben.
Ik had een paillettenjurk aka French Connection in mijn gedachten. Vorig jaar stond de jurk al op mijn lijstje maar de prijs,,Poehh…. Maar na vele jurkjes( The Sting) die erop lijkt aan te hebben gehad, de rits was scheef erin genaaid, kreeg ik een enorme dip en crisis, WAT MOET IK AAN.
Vind ik nog wel op tijd z'n jurk of word het iets anders..?
Ik ben dus het internet afgespeurd op zoek naar tips wat je zoal aan kan doen…In ieder geval iets dat schittert !
De modetrends voor de feestdagen
Goud en zilver (niet met elkaar combineren,
De combinatie zwart-wit
Van top tot teen in het (wollig) winterwit
Pailletten: liefst zo groot mogelijk! (Wat dacht je van een pailletten-legging met een mooie zwarte blazer en een topje?)
Topjes en jurken die versierd zijn met pareltjes of gekleurde stenen (en dan wel zoveel mogelijk)
Bouclé jasjes en bouclé tailleurs in Chanel stijl (heel mooi in het winterwit of met een zilver- of gouddraadje erdoor)
Grof kant zonder voering (zwart of crèmekleurig). Doorzichtig is een must! Je draagt er een culotte en niet-doorzichtige bh onder. Ook Hollywoodsterren als Lady Gaga en Scarlett Johansson worden dit seizoen vaak in doorzichtig kant gespot
Jaren '60 jurkjes (à la Audrey Hepburn,)
Peeptoe plateaupumps (met andere woorden: superhoge pumps met een kleine uitsnijding waardoor een stukje van je tenen te zien is)
Truien en vesten in langharige wol die je met zijde of satijn combineert
Donkere blazers of smokingjasjes
Zwart leer voor de avond (bijvoorbeeld een lange zwartleren rok met een mouwloos topje, zie Dsquared2)
Plateaulaarsjes met veters
Blote benen (ja, koud!)
Lange jurken in vederlichte materialen met lieshoge splitten (heel geschikt voor een gala)
Imitatiebont voor gilets maar ook voor jassen, tassen en andere accessoires
Knitwear met een zilver- of gouddraadje erdoor
Korte rechte jurkjes of juist hele lange jurken
Kleur mag: felrood, maar ook groen, blauw, oranje, geel (zie Gucci)
Bron: http://www.trendystyle.net/
Wat trek jij aan?
♥ Annemieke